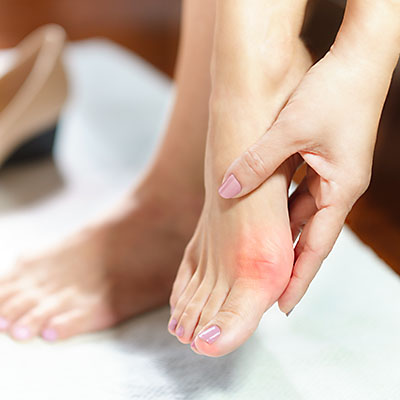 Experienced Bunion Care
A Lapidus procedure is a treatment method our experts use to fix the foot deformity known as a bunion. It uses advanced techniques to relieve pain and secure the bones in the feet.
The Foot & Ankle Center is designed to provide our foot and ankle patients with comprehensive education and exceptional nonsurgical and surgical care through the combined knowledge, experience, and expertise of our specialty-trained foot and ankle surgeons.
Combined, the human foot and ankle contain more than 100 bones, tendons, muscles, and ligaments and form 33 joints. The foot and the ankle are highly intricate structures that work in unison to help support our body weight, allow us to stand, walk or run, and move and flex in a variety of ways. When the foot or ankle is injured, it often requires highly specialized treatment to restore maximum function and movement.
Our specialty-trained orthopedic foot and ankle surgeons at Sierra Pacific Orthopedics' Foot & Ankle Center are dedicated to a multidisciplinary approach to treating foot and ankle injuries. Common foot and ankle procedures our doctors often perform include arthroplasty of the foot and ankle, bunion and hammertoe correction, flatfoot reconstruction, Achilles tendon surgery, tendon transfer of the foot and ankle, and lateral and medial ligament reconstruction. From operative to nonoperative foot and ankle care, our foot and ankle specialists provide an individualized treatment plan focused on your goals.
World-Class Foot & Ankle Care
For those experiencing ankle pain and mobility issues, our experts at Sierra Pacific Orthopedics offer the most advanced and innovative procedures, including ankle replacement surgery. Our fellowship-trained foot and ankle surgeons have extensive experience in ankle replacement using the latest in joint replacement technology. Learn more by clicking below.
Online Guide to Foot and Ankle Care
View our online guide to learn about conditions and ailments of the ankle, big toe, heel, midfoot, and toes as well as the different procedures available to treat them.
Be Seen QUICKLY for All Your Orthopedic Needs
Injuries to the bones, joints, and muscles hurt. When you're hurt, a long ER wait time is too much. You need quick, specialized care from an orthopedic and sports medicine expert. When those injuries happen, be seen right away at our Orthopedic Urgent Care.
Our Current Hours:
Monday – Friday: 8:00 a.m. – 4:00 p.m.
Saturday: 9:00 a.m. – 12:00 p.m.