The Foot & Ankle Center is designed to provide our foot and ankle patients with comprehensive education and exceptional surgical care through the combined knowledge, experience, and expertise of our specialty-trained foot and ankle surgeons.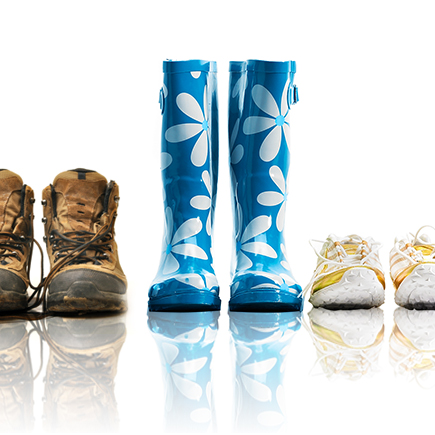 Online Guide to Foot and Ankle Care
View our online guide to learn about conditions and ailments of the ankle, big toe, heel, midfoot, and toes as well as the different procedures available to treat them.
At Sierra Pacific Orthopedics, the region's most preferred orthopedic practice, our specialty-trained foot specialists are recognized experts in assessing, diagnosing, and treating patients with foot injuries and conditions.
Our orthopedic foot specialists are medical doctors with extensive training and experience in foot care. When this type of doctor first meets with a patient, he or she will perform a physical exam to begin determining the appropriate treatment. Sometimes, the doctor will examine other parts of the body, like the ankle, since foot conditions can be related to problems in the ankle. For example, fallen arches could cause problems in the ankle and may require ankle surgery. However, the issue is sometimes only in the foot, such as bunions or toe fractures.
An orthopedic foot specialist offers treatment options to patients with fallen arches, arthritis, and other issues. This type of chronic pain can be very challenging, but foot doctors can apply their expertise to offer specialized care. Sometimes, surgery is required, such as bunion surgery, but other times, a nonsurgical approach helps, such as physical therapy or medication.
Unlike other foot specialists, such as podiatrists, our orthopedic foot surgeons have extensive training in the lower extremity and the entire musculoskeletal system and understand how your feet and ankles are affected by your whole body and overall health. As specialty-trained orthopedic surgeons, our foot and ankle team has more formal education and training than both nonsurgical podiatrists and podiatrists who practice podiatric surgery. And like podiatrists, they offer specialized care for common foot problems, such as neuromas, plantar fasciitis, bunions, and other deformities.
When Should I See a Foot Specialist?
Foot conditions or injuries can result in a variety of symptoms. Pay attention to these symptoms so when you meet with a doctor, you can provide him or her with detailed information regarding your pain.
People with foot problems often report symptoms such as:
Foot pain when rotating the ankle
Heel pain
Pain caused by wearing shoes
Pain or limping when walking
Pain when trying to move toes
Sharp pain associated with bearing weight
Swelling
If any of these symptoms seem familiar, you may have one of the following foot or ankle problems:
Achilles tendonitis
Arthritis
Bunions
Claw foot
Deformity
Fracture
Hammertoe
Mallet toe
Sprain
Tendon and ligament damage
What to Expect With Our Foot Experts
After a thorough assessment, which may include on-site electrodiagnostic medicine or on-site imaging (including X-ray, MRI, and bone density scans), our foot and ankle team will work with you to determine a course of treatment. Our experts always consider nonsurgical options first, such as physical therapy with one of our certified physical therapists, in-office orthobiologics, and weight management through the customized LeanMD health program.
When surgery is necessary, our foot and ankle surgeons utilize the state-of-the-art Summit Surgical facility and employ the latest techniques to perform advanced procedures.
To request an appointment with one of our Foot & Ankle Center experts at our Herndon Campus, call (559) 256-5200.
The Strength of Experience at Sierra Pacific Orthopedics
At Sierra Pacific Orthopedics, we are dedicated to providing all our orthopedic experts, including board-certified, specialty-trained foot doctors Dr. Francis Glaser and Dr. Devin Mangold, with every tool and resource they need to offer the highest-quality care. This includes state-of-the-art technology, a dedicated staff, and the strength that comes from working side-by-side with a team of orthopedic medical experts.
If you have a foot issue that is concerning you, schedule an appointment with one of our expert foot surgeons at either one of our Fresno office locations by calling (559) 256-5200 or by requesting an appointment online.
Be Seen QUICKLY for All Your Orthopedic Needs
Injuries to the bones, joints, and muscles hurt. When you're hurt, a long ER wait time is too much. You need quick, specialized care from an orthopedic and sports medicine expert. When those injuries happen, be seen right away at our Orthopedic Urgent Care.
Our Current Hours:
Monday – Friday: 8:00 a.m. – 4:00 p.m.
Saturday: 9:00 a.m. – 12:00 p.m.